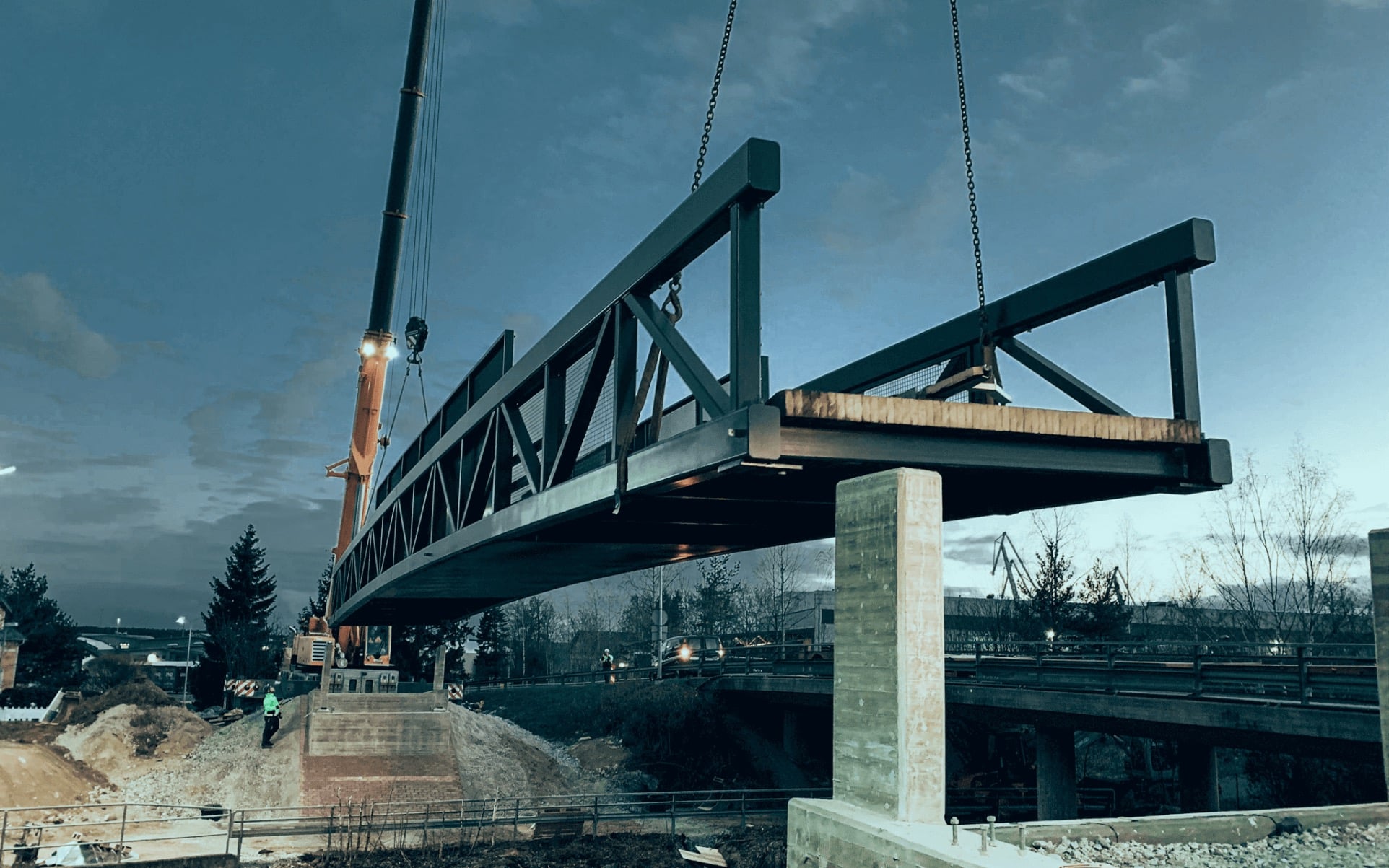 Tjänster
Advanced steel structures
Every task has its challenges, and STH Steel's knowledge has grown with each challenge. Our many years of experience in advanced steel structures have allowed us to deliver safe steel solutions for demanding projects.
Our projects reach across national borders and are not limited by factors such as high altitude or precision demands. Whatever the challenge, STH Steel is ready. Contact us when the task feels difficult, and we will find a solution together.
Examples of specialised structures:
Bridges
Transport tracks
Platforms
Factory plants
Traceability and documentation
Our certification, EN 1090-1 execution class EXC3, allows us to guarantee safe designs with thorough documentation. We can trace the origin of the material and ensure the quality of both materials and labour down to the finest weld. Our means of traceability is a reassuring approach that characterises STH Steel and makes us a highly reliable partner.
Our projects
Welding work for every level of difficulty
To us, steel is more than a material. It is an expression of our unyielding will and our creative ability to overcome obstacles. This approach guides us as we offer our steel solutions across country borders, installing them on high rooftops or deep down in the dark bedrock of the earth.
Wherever safe and professional steel structures are needed to sustain the needs of the industry and society, there you will find STH Steel.
Request a quote
Get in touch and let's find a cost-effective solution together!
Certified steel solutions for demanding projects
STH Steel is the number one choice for durable and robust steel constructions. We have the certificates needed to offer high-quality products and safe execution.
EN 1090-1
We have the knowledge and certificates to manufacture CE marked, load-bearing steel structures for the construction industry according to execution class EXC2 and EXC3.
ISO 9001:2015
The certificate ensures that STH Steel carries out quality controls to ensure that products, services, and customer service comply with established regulations and statutory requirements.
ISO 3834-2
STH Steel works according to extensive quality requirements for welding, in the factory and in the field, as defined in the certificate.